Concrete Durability Monitoring
Monitoring of
Durability
Service Life
Maturity
Chlorides
Carbonation
Durability and Service Life monitoring
We have designed an exclusive monitoring system for Concrete Durability and Service Life prediction (patent pending). Based on the use of embedded sensors to measure concrete electrical resistivity, a non-destructive test, our software uses peer-reviewed scientific models to predict the Service Life of any concrete structural element (in years before corrosion starts) with simple data input like rebar cover, cement and additions type, W/C ratio, and environmental exposure type. Our models can predict the service life for chlorides penetration and carbonation.
Our Concrete Resistivity & Durability System
We apply the well-established principle of
concrete electrical resistivity
to determine concrete durability and predict its Service Life with non-destructive testing. Using the latest technology we have created a complete system that includes:
Embedded sensors for electrical resistivity of concrete, to measure this key property from the inside and in real-life structural elements.
Rugged reader/transmitter that can be placed outdoors for years with IP68 level protection.
Wireless transmission of data via mobile phone network anywhere in the world; WiFi optional for factories and labs.
Full-fledged mobile & PC app with charts, alerts, configuration, and fully integrated into the Concrete Quality software.
Our system for concrete resistivity monitoring with embedded sensors can be used to characterize and test for compliance of concrete mix designs. The results obtained are equivalent to the following international standards:
American Standard for RCPT – ASTM C 1202 – 19: Standard Test Method for Electrical Indication of Concrete's Ability to Resist Chloride Ion Penetration
American Standard ASTM C1876 – 19: Standard Test Method for Bulk Electrical Resistivity or Bulk Conductivity of Concrete
European Standard EN 12390 – 19: Testing of Hardened Concrete – Part 19: Determination of Resistivity (currently in draft)
Our customers have two main goals for our Concrete Resistivity & Durability system:
Concrete Characterization and Mix Design Optimization
Long-term monitoring for Maintenance & Governance of structures
Concrete characterization
Mix design optimization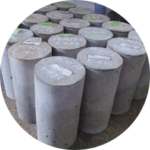 Testing and R&D
Laboratories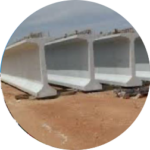 Precast concrete
factories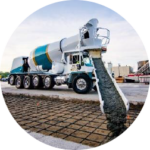 Ready-mix
concrete plants
Long-term monitoring
Maintenance & Governance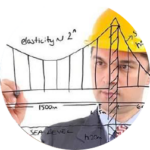 Engineering design
studios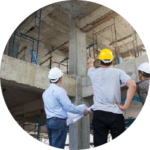 Construction companies
Maintenance companies
Owners, concessionaries,
administrations
We're consultants for concrete production & technology, QA/QC, and mix design. We're software developers, with a full system for digital transformation of production and quality control of concrete operations.
We're concrete technologists and scientists, with experience in monitoring and durability. We're the inventors of this new system with embedded sensors that will revolutionize how Service Life is predicted and Durability is assessed and verified.